Football Development
The development of football and children is paramount to FITC. The pyramid to progression starts with our grass roots initiatives including the ability counts program, Social Inclusion through to the Soccer Schools and Soccer Centre's which provide a great base for children to progress to the player development centres and various other advanced initiative such as the girls Centre of Excellence, NCFC Academy or even National Recognition.
We aim to provide football activities for every boy or girl regardless of their ability, The structure allows us to identify players with potential and to progress them to the appropriate level.
We will aim to develop and progress players through our 'Pyramid to Success'.
Social Inclusion
Social Inclusion is the latest initiative planned by Football in the Community. It will be carried out in partnership with Sports Partnerships around Norwich, Norwich City FC, NACRO, Norfolk Sports Development Forum and Norfolk FA.
The project's goal is to target as many young people aged 6-18 who currently do not engage in any physical activity, especially those in pockets of urban deprivation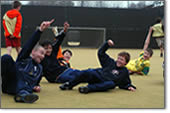 NACRO offer small youth inclusion based projects across the city and are runin a drop in format with open access. They aim to address local needs and also have vital links with other youth based groups. The limitation of the projects is that they are often located and determined by the availability of minimal funding.
The Social Inclusion Project will address a number of community issues such as crime prevention and community safety. The project itself will be structured around three themes Access, Health and Inclusion. The project will address the barriers that stop group's participation, such as transport, location and finances in an attempt to maximise participation. In an attempt to improve the health of these groups the initiative will encourage activities, which lead to sustained regular physical activity.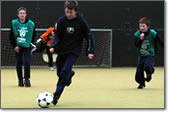 We also recognise that sport can be used as a medium to raise the basic life skills of the participants. These skills will include initiative; raising self-esteem and motivation levels and ensuring they all have equal opportunities participate.
As a result of the initiative footballing opportunities will be provided in urban communities which have been recognised as disadvantaged through consultations with relevant agencies. Small scale, focused projects that use sport as a tool to work with young people who are excluded.
Constantly working and liasing with agencies such as Youth Offending Team and Social Services. As a result of the project local people will be actively encouraged to attend training and take a role of responsibility.
All of the initiatives activities provide a clear exit route for all target groups to carry on participating. This will hopefully involve charter standard and developing clubs to create new teams in the area. As a whole the Social Inclusion Project will lead to a more co-ordinated approach to Youth based projects in Norwich. This will hopefully lead to practise sharing, training and joint activities and events.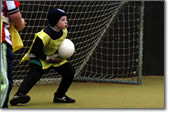 We feel that the initiative is required in an attempt to curve growing problems with alcohol and substance misuse, crime prevention, low income and poor use of free time.
We have identified football as a vehicle which we believe can transport the process of support and new provisions in a constructive environment.
Initial research had identified the following locations for the new provision; Mile Cross, Lakenham, Pilling Park, Bowthorpe, Catton Grove, Heartsease, Costessey and Thorpe St Andrew. Six out of the eight wards above are amongst the top 20% of deprived wards in England. Not only do we recognise this as a problem we feel that it is one that jointly, we can address.
Working in conjunction with NACRO, Ticketgum and SPAN, FITC hopes to make a positive impact on the community and individuals involved in the programme.