Multisports
FITC are pleased to announce the launch of brand new Multi Sports Camps for boys and girls aged 8-14 which start this summer.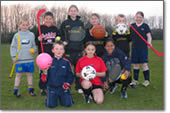 The Multi Sports Camps will be a fantastic way for children to spend every school holiday on a fun and exciting day camp. The fun packed activity weeks will include 20 different sports including table tennis, snooker, archery, golf and other fun games & activities, computers and Playstations, weekly outings, junior coaching programme and lots, lots more.
Ian Thornton, Director FITC, explains "We currently provide excellent footballing opportunities for over 60,000 children that love football, but now we can reach out to many children that love a variety of sports"
For parents this could be the answer to childcare problems, as the FITC Multi Sports camps are open from 8:30am-6:00pm or 10:00am-3:00pm.
Just drop the children off on your way to work at one of the three venues across Norwich and our qualified staff will provide them with activities that will help them develop their sporting and personal skills whilst increasing their confidence and helping them meet new friends.
We will also be looking to recruit many casual staff that have the ability to engage and motivate children and have the qualifications to coach a variety of sports and activities including Information Technology. If you are interested in becoming an FITC coach on the new Multi Sports Camps please contact our office on 01603 761122 to attend one of our staff recruitment evenings.
This great opportunity has been provided through a new partnership with the Early Years Development & Childcare Partnerships (EYDCP) and a grant from the New Opportunities Fund, FITC would like to thank them for their continued support with this exciting new project.