Girls Football
Girls/Womens football is now recognised as the number one sport for females in the UK, with over 61,000 registered players of 11 a side football. The figure for girls under 15 playing football is much higher. According to the research carried out by the FA, a figure of 1.4 million girls were shown to be playing football at least once a week.
Girls relax after training Our information will hopefully give any budding players, an insight on what needs to be done to make sure you are part of an ever growing, fun loving team.
The next few pages will hopefully answer any questions you may have about what it is like to play girls/womens football, and even tell you how to go about it.
It will also keep you updated on recent events that are available from FITC, especially for girls.
Girls Player Development Centres
FITC now have two Girls Player Development Centres at Powerleague, Norwich and Kirkley, Lowestoft.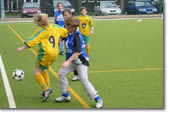 The centres are regarded as a stepping stone to the Centre of Excellence and provide regular coaching from qualified, experienced staff.
The players for the PDCs are selected through the annual trial having shown the required ability and attitude.
Through the year the players will play matches against the Centre Of Excellence and other teams, as well as advanced and residential camps.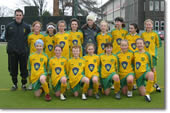 The players performance and progress are carefully monitored by the coaches and if appropriate the players may find themselves being invited into the Centre Of Excellence for a trial.
We currently have 117 players in the Player Development Centres and are looking forward to finding more quality players out there. Could you be that player?